Solutions Straightforward to Machining Problems
Since our founding in 1956, Shinkikai Giken has dedicated itself to developing machines for producing mechanical parts for engines, powertrains, chassis, brake systems and so on while improving production accuracy and cycle time. We enjoy long term business relationships with major Japanese manufacturers of full-size, compact cars, motorcycles, and trucks. We present optimal solutions based on our long-established experience and engineering technology by taking full advantage of our accumulated knowledge and advanced control systems to build machines. In this time of intense engineering competition for better fuel consumption, emission control, and safety, our machines give solutions that existing machines cannot deliver, to tackle challenges in machining parts with complicated dimensions, difficult materials, high geometrical tolerances, and strict traceability needs.
Solutions for Machining Workpieces
Engine
- Balancer
- Bearing Cap
- Camshaft
- Conrod, Connecting Rod
- Control Shaft
- Control Valve
- Crankcase
- Crankshaft
- Cylinder Block
- Cylinder Head
- Drive Shaft
- Flywheel
- Piston
- Rocker Arms
, etc.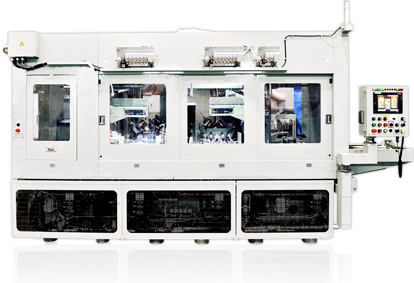 4Station 2Turret Transfer Machine
For Connecting Rod
Powertrain / Transmission
- Constant Velocity Joint
- Differential Carrier
- Differential Case
- Differential Gear
- Input Shaft
- Mission Case
- Oil Pump
- Output Shaft
- Sun Gear
- Valve Body
- Water Pump
, etc.
24Station Transfer Line
For Auto Transmission Parts
Steering
- Front Fork Tube
- Knuckle
- Power Steering Control Valve
- Relay Rod
- Sector Gear
- Spider Bearing
- Streering Shaft
- Tie Rod
- Tie Rod End
- Worm Shaft, etc.
Chassis
- Axle Housing
- Axle Shaft
- Companion Coupling Flange
- End Yoke

- Flange Coupling
- Flange Yoke
- Inner Shaft
- Propeller shaft
- Propeller shaft center bearing

- Sliding Sleeve
- Sliding Yoke / Slip Yoke
- Spline Shaft
- Yoke
, etc.

Multi-Purpose Machine with ATC
For Truck Axle Housing
Brake
- Brake Caliper
- Brake Caliper Bracket
- Brake distributor
- Brake Drum
- Disk Brake Rotor
- Master Cylinder
- Monoblock Caliper
- Opposed-cylinder
- Rotor, etc.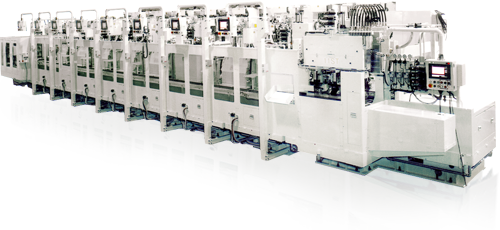 12Station Pallet-Feed Transfer Machine
For Caliper Disk Brake