Building Cutting Edge Machines
We build machines to fulfill machining requirements of each customer for designed productivity.
Possessing more than 60 years of accumulated knowledge and experience,
we are building machines equipped with the latest machine tool technology nurtured here at Shinkikai thru daily challenges and applications.
Hand Scraping
Hand scraping is applied to the sliding surfaces,
such as of box slide units or rotary tables to achieve perfect surface mating.
These skilled workers convey our craftsmanship for future generations.
Key Technological Elements
We daily work on a varied range of analysis, diagnosis, proof machining, and development tasks for new machine elements.
Also, we always look for the best of the bests in the area of machining technology home and oversea alike and make it ready to be applied to your machines.
Control Technology

Soon after starting up our business operations,
we realized the advantages electric control offers compared to hydraulic control.
This led to developing our own numerical control systems (SKG NC).
Since then, these systems have been evolving over generations and installed on our machines
both domestic and worldwide with properly updated versions.
Customers can choose standard CNC or SKG NC that are designed to best match the particular
special purpose machine while providing cost competitiveness and other options.
The SKG NC system is fully technically supported in the USA, China and Singapore.
Spindles

We design and manufacture a variety of spindles, such as multi-spindle
drills, taps, and boring spindles according to our clients' needs.
Examples of our high-speed spindles include direct mounted
motor spindles and built-in motor spindles.
We conduct, in our factory, dynamic balance correction at high-speed
rotation for high-speed spindles to achieve high-precision machining.
And spindles with special functions such as eccentric spindles and
U-axis spindles are also important modules of machining technologies.
- Single/Multi spindles
- Spindles with Eccentric/U-axis Drive Mechanism
- Special Turning Spindles
- High Speed/Built-in Motor Spindles
- Angle Head/Offset Spindles
- Other Special Design Spindles
Compensation Device for Cutting Tools

We use a special holder with a built-in tool diameter compensation function for high-precision drilling and
especially boring. This special holder can be made possible with a variety of technologies.
One of which is the holder that contains two piezoelectric elements positioned symmetrically to the center.
By controlling the voltage applied to the piezoelectric elements via an in-house manufactured drive unit,
it changes the position of the drill tip in the radial direction on the quill attached to the end of the holder,
thereby enabling the adjustment of the drilling diameter down to the micron. This holder with
built-in tool diameter compensation function after being carefully corrected in its dynamic balance enables
use in high speed rotation.
Quality
Here, at Shinkikai, we take the words, "No measurement means no production" as our guiding concept.
At our factory, a wide range of measurement devices from the world's leading companies are available,
not to mention CMMs (Coordinate Measuring Machine) and electron microscopes.
Mitutoyo Ultra-High Accuracy CNC CMM LEGEX9106
Leitz Ultra-High Precision CMM and
Gear Measuring System
Carl Zeiss CMM CONTURA
Support
Each machine we build shall be serviced by us throughout its useful service lifetime. We are committed to master each respective machine we build, down to each system and component, and ready to correct any machine troubles at the customer worksite both quickly and efficiently. Much of the responsibility of dedicated machine builders starts after the machine is installed and never really ends.



World Wide Installation
SKG machines are shipped to the countries around the world including the United States, China, other Asian countries (Thailand, Singapore, Malaysia, Indonesia, India, Korea and etc.), as well as Europe and Russia. Our service center for Chinese customers is located in Dongguan, China.
Machine Design Concept
Style/Construction
- Monopost Type
- Vertical/Horizontal/Slanted Type
- Column Type
- Gantry Type
- Combination Type
- Transfer Machine
- Index Rotary Table
- Center Column
- Trunnion , etc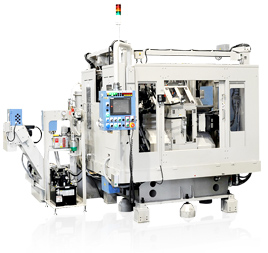 8Division(Station) Trunnion Machine
Spindle Head/Special Design Mechanism
- Single/Multiple Heads
- Turret Heads
- High Speed/Built-in Motor Spindles
- Spindles with eccentric/U-axis Drive Mechanism
- Angles Heads/Offset/Hammer Head Spindles
- Special Turning Spindles
- Special Hub Mechanism Spindles
- Special Multi-Axis Control System
- Special Double Threading Mechanism
- Process Combination Machines
- Design/Development/Manufacture of Cutting Edge Spindles & Mechanisms
- Tool Change Mechanisms(ATCs)
, etc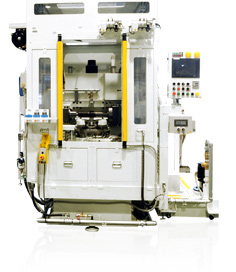 Special Hub Spindle Cross- Serration Machines
Handling
- Lift and Carry
- Manipulator Handling
- Direct Transfer
- Pallet Transfer
- Gantry Transfer
- Robotic Transfer
- AVG , etc
Guideways
- Box Slides
- Linear Guides (Roller, etc.)
- Linear Guide with scales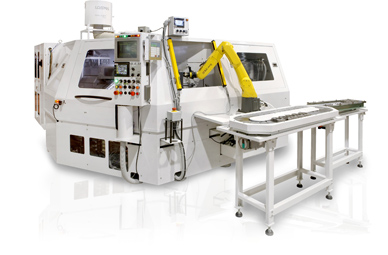 3Station Indexing Rotary Table Machine
For Vane Groove of Rotary Compressor Cylinder